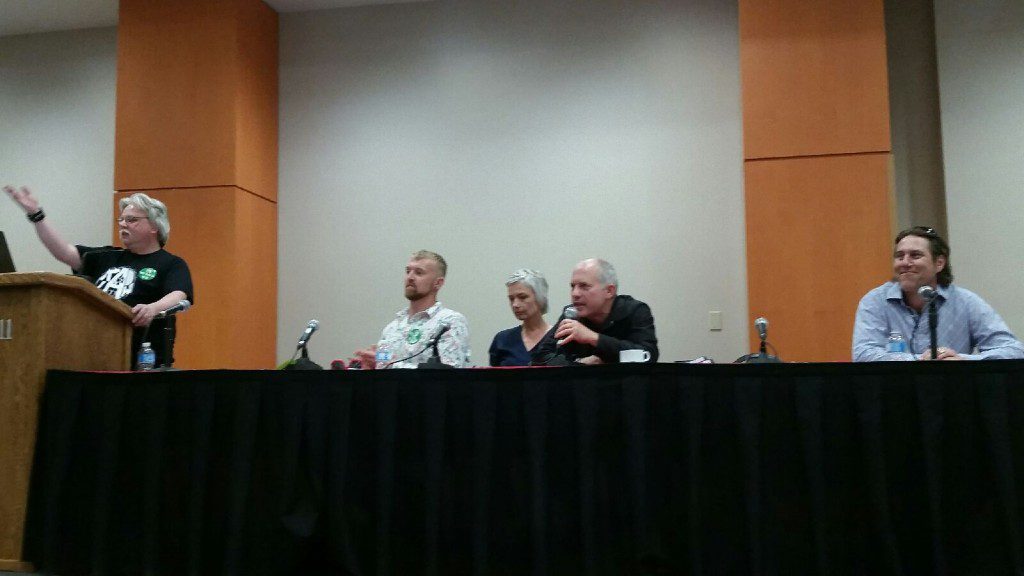 Left to right: Thomas Chalmers, Colby Briggs, Nancy Crowe, David Roseman and Andreas Gadmer
Dear Members
I would like to take a few moments of your time to tell you of our plans for the next few months. Although our councils and committees slow down during the summer, the executive will be working and exploring all ways to meet your expectations and the commitments we made prior to being elected.
We shall be paying particular attention to all questions associated with pay equity, job descriptions and our pay scales, and we will be working with the councils to set up a Pay Equity Committee. We will be regularly reporting to you on what we learn and the progress we make, both internally and in our bilateral discussions with the University. In the meantime, we would ask you to address specific questions on this subject to research@munaca.com with the subject heading Pay Equity, so that we can gather inquiries and responses at one address.
We will also be working closely with our AMUSE colleagues to finalize the merger, and expect to report back to you by the end of the summer on our progress.
We will, of course, continue to work as well on grievances, health and safety prevention and education, steward and community outreach and training, and on continuing to make improvements to our website.
Reaching out to you is very important to us in order to find out about your concerns. We will be working on ways to better represent you and get you to participate more in your union. If you have any suggestions on how to improve representation and participation please send them to research@munaca.com subject heading Representation and Participation.
Another priority will be finding ways to combat management's eroding of our bargaining unit through the use of Ms and casuals.
We will also explore ways to properly address the incidents and lack of effective response on psychological harassment, which at times seems rampant within the university. If you are experiencing any unwanted or abusive conduct from another person at McGill, please contact your steward or the MUNACA office at #6565 straight away. Keep in mind that it is not your fault: too many blame themselves, asking "if only I did this or that it wouldn't be happening." It is not your fault and it is totally unacceptable. There are people available to help: please do not think you are alone.
Participating in the Inter-Union Council is of importance to us because we plan on working closely with other unions and associations both within McGill and outside in the University sector.
Finally, if you have any questions and concerns please do not hesitate to pull aside your steward or one of us and let us know what you are thinking. Thanks for your attention: see you at the BBQ.
Thomas Chalmers, President
on behalf of the MUNACA Executive