Steward Profile – Mohamad Kaddoura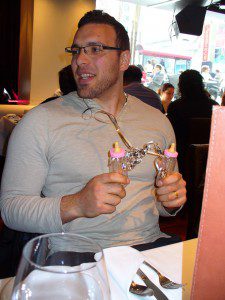 Work Place and Position:
I work as a Financial Administrator, Research Fund Management Services, Financial Services.
Contact info (Email and telephone):   Mohamad.kaddoura@mcgill.ca;  ext. 3479
Years at McGill:  I've been at McGill for almost 5 years now.
What I like about being a Steward:
I like to listen to other people's problems and trying to solve them or at least add some positivity into other's lives. I like to help those who are working hard and are not being treated fairly by management. I like to play the middle person between the employee and the employer. I want to help new employees learn about their benefits as a union member. I want to be able to negotiate on all issues that concern unionized workers and also make sure that management sticks to agreements that have been negotiated. I feel I can contribute to organizing events, meetings, and presentations.
Personal info (a few words on hobbies, interests or backgrounds):
Immigrated to Canada in 2000. Worked in various industries. Occupied a union rep position at Provigo back in 2008. Married, with two kids. Love to cook. Advanced squash player and I do weightlifting minimum 3 times a week. I speak English, Arabic and some French. I also understand Spanish very well.
---
Lieu de travail et poste :
Je travaille en tant qu'Administrateur de finance, Services de gestion des fonds de recherche, Services de finance.
Coordonnées (téléphone & courriel) :  Mohamad.kaddoura@mcgill.ca; poste no. 3479
À McGill depuis :  Je travaille à McGill depuis presque cinq ans.
Qu'est-ce que te plaît d'être délégué(e)? :
J'aime être à l'écoute des problèmes des autres et chercher des solutions ou au moins apporter une note positive à leurs vies. J'aime aider ceux qui travaillent dur et qui ne sont pas traités de façon équitable par la direction. J'aime être l'intermédiaire entre l'employé et l'employeur. Je voudrais aider les nouveaux employés à en apprendre plus sur leurs avantages en tant que membre du syndicat. J'aimerais être capable de négocier sur toute question qui touche les employés syndiqués et assurer que la direction respecte les accords négociés. Je crois pouvoir contribuer à l'organisation d'événéments, de réunions et de présentations.
Infos persos (quelques mots sur des passe-temps, intérêts,
parcours personnel) :
Immigré au Canada en 2000, j'ai travaillé dans des secteurs variés. J'étais représentant syndical chez Provigo en 2008. Marié, deux enfants. J'adore faire la cuisine. Jouer au squash avancé et je fais de la musculation au minimum trois fois par semaine. Je parle l'anglais, l'arabe et un peu de français. De plus, je comprend très bien l'espagnol.