Stewards – Dan Lafrenière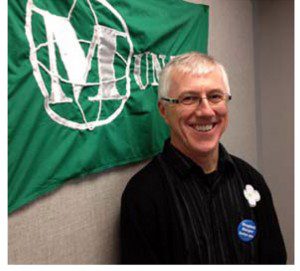 District: West Central Campus
Workplace and position:
I work at Medical Information Technology (MedIT), Faculty of Medicine, McIntyre Medical Building, room 225. I am the Administrative Coordinator handling purchasing needs and inventory management (computer equipment and software).
Contact info (phone and email):
My McGill local is 3501, and my email is daniel.lafreniere@mcgill.ca. You can also reach me at local 09580 and via my private email: dan_lafreniere@yahoo.ca.
# years at McGill:
I have been working at McGill since May, 2001.
What do you like about being a steward?:
I like helping our members, especially when they have been wronged or harassed. I have a deep sense and commitment to social justice (I am a member and volunteer with different organizations.) I have never been more proud to be a union member as I was during the strike last year, and I feel it is a duty for me to continue give back to the membership in my role as steward.
Personal info (a few words on hobbies, interests, or background):
I love cycling, hiking and walking the dog to help keep me in shape. I am vegetarian and enjoy gardening (I am interested in food sovereignty and support local agriculture.) I also dabble in artistic pursuits like stained glass, non-fiction writing and exploring the Internet. I am a longtime member of Development and Peace (development agency of the Catholic Church) and was privileged to support our project partners in West Africa twice in the last five years. I was an international observer for the presidential elections in Togo held in March, 2010.
---
Lieu de travail et poste :
Je travaille à « Medical Information Technology (MedIT) », la Faculté de Médecine, Bâtiment médical McIntyre, salle 225.  Je suis l'administrateur coordinateur chargé des achats et de la gestion de l'inventaire (équipement informatique et logiciel).
Coordonnées (téléphone & courriel) :
Mon poste à McGill est le 3501 et mon courriel est : daniel.lafreniere@mcgill.ca. Vous pouvez également me joindre au poste 09580 et par mon courriel personnel : dan_lafreniere@yahoo.ca.
À McGill depuis :
Je travaille à McGill depuis mai 2001.
Qu'est-ce qui te plaît d'être délégué(e) ? :
J'aime aider nos membres, surtout quand ils ont subi de mauvais traitement ou ont été harcelés. Mon sens de la justice sociale et mon engagement sont très marqués (je suis membre et bénévole auprès de différentes organisations). J'ai été le plus fier d'être membre syndical lors de la grève de l'année dernière, et en tant que délégué, je me sens l'obligation de rendre au syndicat ce qu'il m'a donné.
Info perso (quelques mots sur des passe-temps, intérêts, parcours personnel):
J'adore faire du vélo, de la randonnée et promener mon chien, tous ceux qui m'aident à rester en forme. Je suis végétarien et j'aime faire du jardinage (je suis intéressé par la souveraineté alimentaire et je soutiens l'agriculture locale). Je m'adonne aux diverses activités artistiques comme les vitraux, l'écriture des ouvrages nonfictionnels et l'exploration de l'Internet. De plus, je suis membre de longue date de Développement et Paix (un organisme de solidarité internationale de l'Église catholique au Canada) et j'ai eu le privilège de soutenir nos partenaires en Afrique de l'ouest deux fois lors des cinq dernières années. J'étais observateur international lors des élections présidentielles en Togo tenues en mars 2010.