Stewards – Jesse Radz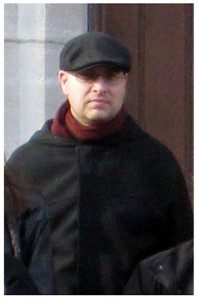 District:  Lower West Campus
Workplace and position:
Coordinator, Special Events and Conferences; Development and Alumni Relations, Martlet House
Contact info (phone and email):   514-398-1248; jesse.radz@mcgill.ca
# years at McGill:  4 years (as of October 2013)
What do you like about being a steward?:
I was asked by my colleagues at Martlet House to be a steward. It is a great way to help your co-workers and participate in the McGill community because you meet a lot of people across campus.
Personal info (a few words on hobbies, interests, or background):
Before coming to McGill, I was the event coordinator at the McCord Museum, and before that, I was a trumpet player, touring Canada and the U.S., with The Kingpins.  Anyone who has met me can attest that I am a little food obsessed and love cooking for people.
---
Lieu de travail et poste :
Coordonnateur des Conférences et des Activités spéciales; Développement et Relations avec les Ancien(nes) Étudiant(e)s, Maison Martlet
Coordonnées (téléphone & courriel) :
514-398-1248; jesse.radz@mcgill.ca
À McGill depuis : 4 ans  (à partir de octobre 2013)
Qu'est-ce qui te plaît d'être délégué(e) ? :
Des collègues à la Maison Martlet m'ont demandé de devenir délégué. C'est une façon extraordinaire d'aider vos collègues et participer à la communauté mcgilloise, comme il donne la possibilité de connaître beaucoup de gens partout au campus.
Infos persos (quelques mots sur des passe-temps, intérêts, parcours personnel):
Avant de travailler à McGill, j'étais Coordonnateur des événements au Musée McCord, et avant cela, j'étais trompettiste au sein du groupe, The Kingpins, avec qui je faisais des tournées au Canada et aux États-Unis. Toute mes connaissances constatent que je suis un peu obsédé par la nourriture et j'adore faire de la cuisine pour des gens de mon entourage.