Stewards – Sam Minter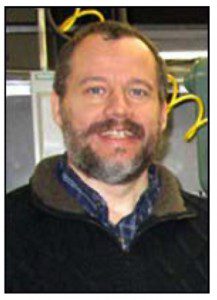 District:  Lower East Campus
Workplace and position:
CNC Technician, Faculty of Engineering; MacDonald Engineering Building, labs MD056, MD057 and MD50
Contact info (phone and email):
Either phone: 398-6322 or 398-2415; Better by email: sam.minter@mcgill.ca
# years at McGill:
Approximately 7 years at McGill  (as of August 2012)
What do you like about being a Steward?:
Being a steward gives you insight into how things work at McGill and lets you meet other members with similar work issues.
Personal info (a few words on hobbies, interests, or background):
Courses at Concordia, running and weight training, interested in history.
---
Lieu de travail et poste :
Technicien CNC, Faculté du Génie, Bâtiment de Génie MacDonald, les labos MD056, MD057 et MD50
Coordonnées (téléphone & courriel) : soit le 398-6322 ou le 398-2415; c'est mieux par courriel: sam.minter@mcgill.ca
À McGill depuis : environ 7 ans (à partir de août 2012)
Qu'est-ce que te plaît d'être délégué(e)? :
Être délégué m'apporte des aperçus de la fonctionnement de McGill et me permettre à connaître d'autres membres qui ont des questions similaires concernant le travail.
Info perso (quelques mots sur des passe-temps, intérêts, parcours personnel) :
Je prends des cours à Concordia, je fais du jogging et de la musculation, je m'intéresse à l'histoire.