Walkout for fossil fuel divestment: Nov.12, 2019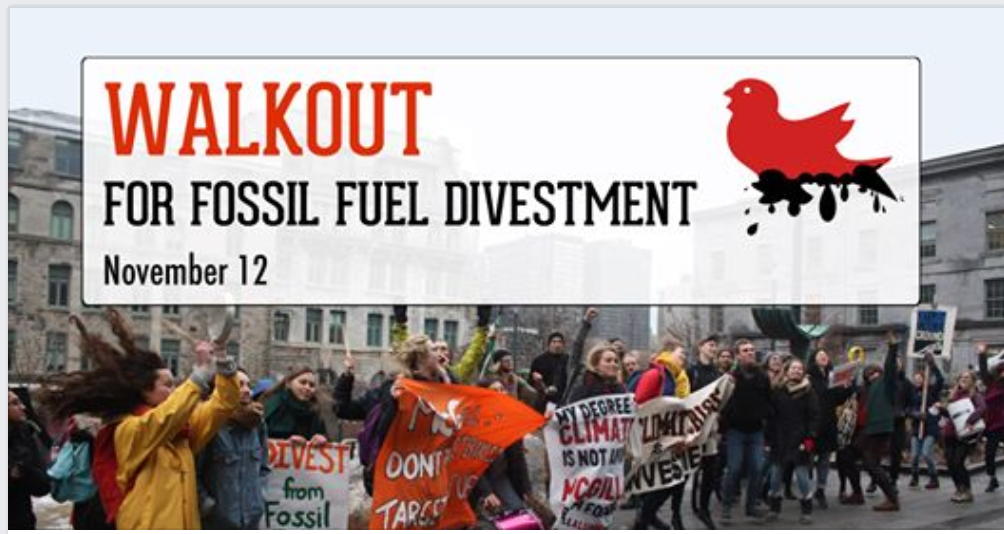 Since 2012, McGill students, faculty and staff have demanded that the university divest its endowment from the fossil fuel industry. This is a matter of climate justice: divestment is necessary to address the past, present and anticipated social, ecological and democratic damages of the fossil fuel industry.

On November 12 at 12PM, McGill's committee reviewing fossil fuel divestment (CAMSR) will meet and finalize their recommendations on divestment to be approved by the Board of Governors on December 5th. The meeting on November 12 is the last chance for students, faculty, and staff to speak out before the decision is made.

Join us in a walkout to demand:

1) Divestment from the top 200 largest fossil fuel companies, globally by carbon reserves;

2) A public statement by the University recognizing that fossil fuels and fossil fuel companies do cause grave social injury;

3) That the Board of Governors' discussion on divestment on December 5th be held in open session;

4) That CAMSR members commit to publicly presenting their preliminary findings and arguments at a community town hall organized within the first month of the Winter 2020 term, with question period for the community;

5) During the transition period toward full divestment of the endowment, all general McGill donations must go towards the trial fossil free fund.

Learn more about recent developments in the divestment campaign, including SSMU's Moratorium on Ancillary fees until divestment and the unanimous strike vote by the Faculty of Arts, here:
https://drive.google.com/file/d/1u4II7y8RdYIgr3ruavz1PxMWfaqFFtPm/view.

This event will be held on stolen territory of the Kanien'kehá:ka (Ga-ne-ghe-HA-ka), the keepers of the Eastern Door of the Haudenosaunee Confederacy. Montreal, which is known as Tio'tia:ke (Gio-Jaw-Gé) in the language of the Kanien'kehá:ka, is a place of vibrant indigenous communities. Divest McGill is an organization that centers on social and environmental justice, and we feel it is crucial to be informed on the past and ongoing consequences of colonialism and to actively deconstruct its oppressive systems. This includes the compensating and returning of land to indigenous nations.

WALKOUT DETAILS:

WHAT: Walk out of class at 11:45 and meet with other students, staff, and faculty in Community Square. This event will feature speakers who are directly involved in the fight for climate justice and fossil fuel divestment and will also include chants and singing so that the McGill committee meeting inside the Administration building can hear the student support for fossil fuel divestment.
WHEN: Tuesday, November 12, 11:45AM – 1PM.
WHERE: Community Square (the grassy steps and surrounding area between McConnell and the Administration building).

Accessibility info: We recommend that wheelchair users meet on the side of Community Square closest to McConnell. There will be a loudspeaker at the event. For questions about specific accessibility needs, please contact the Divest facebook page.

See you there!