What's Been Happening
April 19 – Due to a lack of quorum for that day's Special General Assembly, a meeting could not be held. The MUNACA Trust issue and vote will be presented at the Annual General Assembly. We strongly encourage all members to attend, so that we may have quorum to discuss the issue and to vote.
April 21 – This day found the L-Council at Mac Campus, and as Mother Nature would have it, we had a beautiful sunny day!
We were joined by Marc Samoisette, Frances Wheeler, Lucy Frenette and Barbara Boronell.
We discussed many topics, first the goings on at the Farm from Marc, who joined us for the first hour. We were made aware, from those of the original T's that made up the staff at the farm last year, that they have lost quite a few jobs to retirement and since then, Administration have only replaced one MUNACA job and the rest have be filled by casuals. Crazy.
Then, we were later joined by the Library Assistants for the second hour, and the topic of discussion was equipment, how most of the equipment for Staff and Students at Mac are hand me downs from the Downtown campus. That was an eye opener too.
We also discussed the past Special General Meeting and the upcoming elections, necessary due to the lack of quorum at the Meeting.
We also covered Nancy Crowe's resignation on March 30.
Needless to say, the meeting was jam packed with information.
As always, we had a great visit out at Mac, and we'd like to thank all of the Mac Staffers that were able to come out and meet with us!
We would also like to remind everyone that if any LA's would like to be a part of the L-Council, we have a great opportunity to join now. From April 21st through May 4th at noon, the MUNACA office will be accepting nominations; we have nine seats available.
If you'd like to get more involved with Union, joining the L-Council is a great way to start!
April 25-27 – Members from the three McGill PSAC unions (MUNACA, AMUSE, AMURE) spent three days together, learning about workplace health and safety in a training course offered by PSAC. We learned about hazardous chemicals and falls, but also about office injuries and illnesses: psychological harassment, non-ergonomic chairs and desks, cold offices. Members of the three unions shared the challenges they face. All employees in Quebec (including volunteers and casuals) are entitled to a safe and healthy workplace, and union reps can help members report and correct dangerous conditions.
At the end of the course, some of us went out for drinks and food and further union building.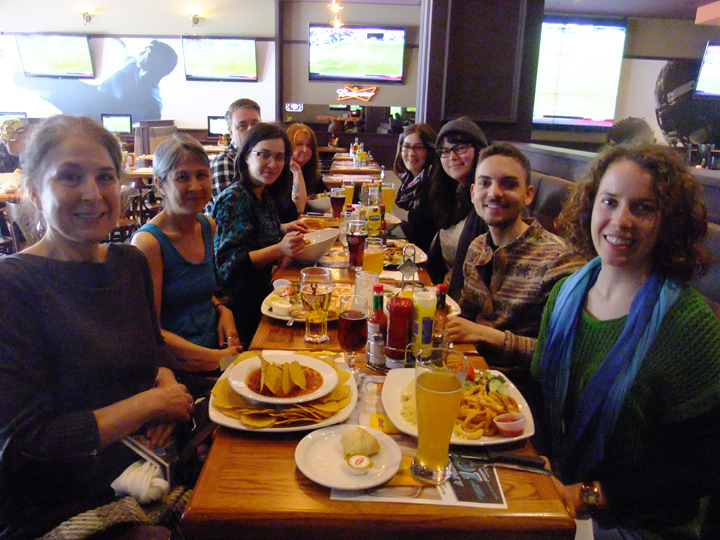 May 4 – Congratulations to our new council reps, who were all acclaimed for a mandate of two years, effective June, 2016.
C Council: Colby Briggs, Sherrie Child, Kelly Hanley, Mohamad Kaddoura, Marylin Linhares, Jennifer Nicholls
L Council: Debra Yee
T Council: Andreas Gadmer, Diana Lee, Sam Minter, Sanjeev Panigrahy, Richard Rossi, Ranjan Roy, Badawy Sha'ath, Timothy Swiffen, Danny Trempe